A weekly snapshot of the latest development in Asia, brought to you by the TOC International Team.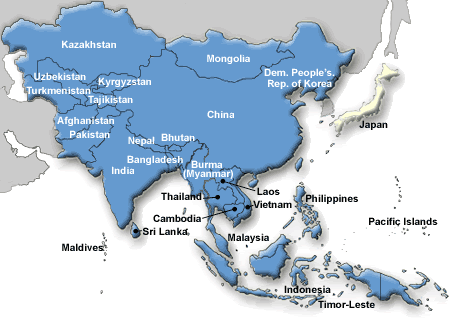 Southeast Asia
01) 81-yr-old Thai King Hospitalised
Prime Minister Abhisit Vejjajiva said Sunday that doctors at Siriraj Hospital said the king's health gave no cause for cocern
02) Philippine troops clash with Abu Sayyaf militants
Al-Qaida-linked militants resisted attempts by government forces to serve arrest warrants on three of their commanders.
03) Industry Ministry firm, still wants possible delays in FTA
The Indonesian Industry Ministry is carrying on with its  initiative to delay the timing of tariff reductions under the free trade agreement (FTA) between the Association of Southeast Asian Nations (ASEAN) and China; while the Trade Ministry says that renegotiation is not the only solution (to protect local industry).
04) <ew Rule may offer leeway for Gas exports
If producers in Indonesia fail to reach a deal with domestic buyers, they can sell gas on the international market, pending approval from the energy and mineral resources minister.
05) Asia Powers Up
Expo offer Thai investers glispse of Thailand's future energy supply
06) Businessmen calls off ASEAN Forum
Southeast Asian business leaders have cancelled their annual meeting set to take place in Thailand this year, citing the country's prolonged political strife and rising tension at the border between Thailand and Cambodia.
07) East Timor: 'The Quality of Women Is Very Important'East Timor now has female representation of almost 30 percent in the national parliament.
08) Asia wakes up to Risk Management
"It's not uncommon for companies in high growth economies, high growth environments, to not really worry too much about risk management because they are so focused on growth, and you can grow your way out of a lot of problems,"
Women are a vital part of the economy in Kelantan, which has been ruled by the country's opposition Islamist party for almost 20 years.
10) obal Media Principles launched in Jakarta
A set of global guidelines on freedom of expression in the media – a key element of democracy – were launched Thursday in Jakarta as part of a UN initiative by the Independent Journalists Association and representatives from international and local NGOs.
11) Thai Charter needs Public Input
East Asia
01) A Chinese perspective on how to reform the international financial system
Senior research professor and deputy director of Institute of World Economy at the Shanghai Academy of Social Sciences gives his solution to defects in the international finance system
Cracks exposed in China's minority policy
03) China starts building major oil reserve
China started building a 5.4 million cubic meter strategic oil reserve in the far western Xinjiang region Thursday in the latest effort to ensure its energy security.
04) Bankers show confidence in Q3 Chinese Economy
A nationwide questionnaire of bankers released Thursday by China's central bank showed that the bankers' confidence index for macro economy and bank performance in the third quarter had continued rising, and expectations for bank performance in the fourth quarter had been improved.
05) China bans foreigners traveling to Tibet
China has barred foreigners from travelling to Tibet until after sensitive Oct. 1 celebrations marking the 60th birthday of communist China
06) Japan seeking to tweak relationship with U.S., but which way?
Democratic Party of Japan (DPJ) claims that Japan has been subservient to the United States and needs to be able to propose more proactively what role the two countries should play on the international stage.
07) Is Japan really on the road to recovery?
Revised stats for the three months to June indicate that the economy grew by 0.6% and on this basis, Japan would then realize an annual growth rate of 2.3%.
08) N.Korea Concentration Camps are burning issues
The silence of the international community on the barbaric massacres in the concentration camps committed by Kim Jong-il borders on the criminal.
South Asia
01) Indian festivals celebrate communal harmony
Festivals of different religions thrive despite the terrorists' best efforts to disturb the social fabric.
02) Bangladesh: Glimmers of Hope Amid an Elusive Peace
Interview with leading Bangladeshi human rights activist Sultana Kamal.
Central & West Asia
01) Kyrgyzstan agrees on action plan to cut and prevent statelessness
Report from the United Nations Refugee Agency: Kyrgyzstan agreed on Tuesday to adopt a concrete plan of action to cut and prevent statelessness in a country where the nationality status of thousands of people has been in limbo since the early 1990s.
02. Groups Call for Special U.N. Probe in Iran
Since the disputed Jun. 12 presidential election, more than 4,000 people have been arrested, including at least 250 prominent political figures, journalists, professors, student leaders and human rights defenders. Nearly 400 people remain in detention months later.
03. AFGHANISTAN: Despite fraud, female electoral participation registers gains in Afghanistan
The August presidential and provincial council elections showed that more Afghan women than ever participated in the political process.