Mellow
Mellow is a member of ECO Singapore, hoping to bring forward the gravity of the climate change issue in Copenhagen this December. The group is part of the International Youth Climate Movement (IYCM) at the United Nations Framework Convention for Climate Change (UNFCCC) 15th Conference of Parties (COP15).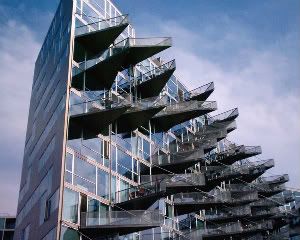 LJ and I went for a Urban Climate Solutions Tour which was kindly organized by the Ramboll Group and really got us thinking about Singapore's role in all of this.
(Left: Sustainable housing in Orestad)
We toured the Orestad new town, which boasts new sustainable infrastructure and an upcoming range of developments which aim to incorporate sustainable urban design, facilitated by Ramboll's Climate wing.
While the tour showed us that there is much potential in converting waste (gas, straw, wood and coal) and also material waste from Copenhagen into energy for district heating, we couldn't help but wonder how can Singapore learn from this?
We have a well functioning incineration plant in Pulau Semakau, but the island itself is devoid of humans and is only inhabited by perhaps migratory birds and apparently has a thriving marine ecosystem. So why don't we channel the energy from burning our waste into cooling?
The tour today showed us how district heating serves to produce heat and to efficiently transport that heat via insulated channels and loops in and around Denmark. Ramboll is also currently working on converting traditional mechanistic ways of cooling into district cooling facilities for use during the warmer months here in Denmark.
Can this technology possible be replicated, transferred or exported into Singapore's context? Do we still need to rely on 24 hour air-conditioning in our tropical climate or can we each do our bid towards cutting down our consumption?
These are questions not easily answered and we all face that dilemma when it comes to sacrificing something. Regardless of our own moral obligation towards climate change and the future of our planet, we must also question the government's efforts in importing technology, efficient technology into our shores.
Such methods of district heating and cooling can be replicated in our industrial sectors where huge amounts of energy is created burning waste, refining fuel and chemicals. Other cities are stepping up to tackle climate change NOW, what about Singapore?
We cannot remain dependent on our government to come here to Copenhagen to hammer out a deal. Our Prime Minister Mr Lee Hsien Loong is coming in for talks on Thursday, the second last day of the conference. Civil society is now being barred from entering Bella Centre to influence negotiations. We cannot count on having a real deal being set here. So it leads us to think…. what happens now?
Post-COP15 poses a even bigger challenge for us and we have got to do our part. Start acting today. Blind consumerism of today is degrading the lands of Africa, flooding small island states and constantly, constantly feeding the pockets of those high up in the ranks of the business community. We cannot continue "business as usual" and as civil society we need to ask questions and take action.
While it is conforting to know that I'm with a team of committed individuals here in Copenhagen with me, I can't help but think about the youths back home in Singapore and wonder where their support is. Please start acting, not just for our future but others around us. Keep in mind too that it's the people in our region.. the Asia-Pacific that will bear the brunt of climate change, whether or not a deal is signed here at COP15.
Science has shown that up till 2050, the greenhouse gases already emitted are going to continue warming the atmosphere and this is going to happen regardless of all the mitigation strategies done today. So adaptation is the way forward. We not only need to adapt to rising sea levels, warming temperatures but also change for the better. We need to stop consuming blindly and remaining apathetic to things going on around us.
So as we spend our final hours in the Bella Centre (given the lack of access we will be getting from tomorrow onwards) I hope that the Singapore community (especially the youths) can lend your support to us in this trying time!!! And do your part back home to spread the word of climate change and of COP15.
This article was originally published at http://unfcccecosingapore.wordpress.com/
Read also: World's mayors tackle climate change on their own