The following is excerpt from Singapore Rebel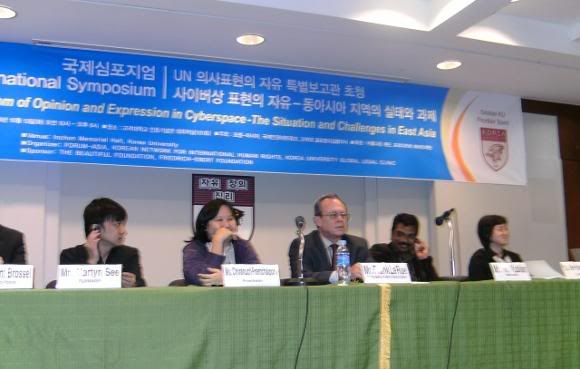 (Top: Forum Asia's Panel on 'Freedom of Opinion and Expression in Cyberspace'.

There are three tiers of censorship in Singapore. The 1st tier are the legislations passed by Parliament which restricts freedom of expression. The 2nd tier of censorship are those imposed by government bodies which are authorized by law to draw up guidelines and policies pertaining to political expression. A key feature of this 2nd tier of censorship are the non-transparency and the nebulous nature of its implementation, which leads to a blurring of the the line of what is acceptable and non-acceptable speech. This in turn creates a climate where writers, bloggers, artists and politicians self-censor their speech in order that they do not overstep boundaries. This climate of self-censorship forms the 3rd tier of censorship in Singapore.
***
The 2nd tier of censorship involves a combination of rules and policies enacted by government bodies, particularly the Media Development Authority, and a general pervasive fear of being monitored by the authorities.
Indeed, the law permits Government monitoring of internet use. A range of laws, such as the Computer Misuse Act, grants the police broad powers to search any computer without a warrant. There is no general data protection or privacy law in Singapore. The US State Department Human Rights report states that "law enforcement agencies have extensive networks for gathering information and conducting surveillance and highly sophisticated capabilities to monitor telephone and other private conversations. It was believed that the authorities routinely monitored telephone conversations and the use of the Internet. It was widely believed that the authorities routinely conducted surveillance of some opposition politicians and other government critics." The Singapore Government has not refuted this allegation.
In May of 1999, after a law student complained to police that someone with an account in the Home Affairs Ministry had hacked into her computer, the Ministry disclosed that it had secretly scanned the computers more than 200,000 SingNet customers, ostensibly for viruses.
On Oct 1st 2009, the Government announced the setting up of the Singapore Infocomm Technology Security Authority (SITSA), an agency dedicated to counter 'external threats to national security vis-a-vis cyber-terrorism and cyber espionage.' This new unit will come under the authority of the Internal Security Department (ISD), known within the country as Singapore's very own version of the KGB.
***
In Singapore, every time politically sensitive subjects are raised in public, there is great uneasiness that one's phone is being tapped, emails monitored, movements and speech recorded. The defense against this perceived State surveillance is often avoidance – that is to say – stay away from discussing politics in public, stay away from activities or speech that may put one under surveillance. This climate of political fear creates a culture of self-censorship, even on the internet.
***
The Singapore Government adopts a one step forward, two steps back approach in calibrating space for political expression.
The rules governing Speakers' Corner, the gazetted free speech zone in the city-state's downtown business district, was amended in September of 2008 to allow for protests and demonstrations. However, in July this year, the police installed five CCTVs in the vicinity of the park with a view to monitor activities on its grounds. Similarly, a Films Act amendment in March this year had allowed for some types of political films to be made, such as live recordings of political events and election mainfestos, but introduced new restrictions such as the prohibition of dramatisation, animation and scenes of illegal activities in political films. A new Public Order Act exempts cultural and recreational events from police licences but tightens the noose on all cause-related activities. By the time the APEC Summit gets underway in Singapore, the Act will require that all public protests be licensed by the police, including those staged by one person.
Read the rest of the write-up at Singapore Rebel