Lisa Li /
Government accountability, Singapore-style: Announce your decision. Repeat stock answers. If the conversation gets uncomfortable, stop responding – wait for people to forget their questions – and the discussion is over.
This seems especially so for the issue of human rights in pragmatic Singapore, where in so many matters – like minimum wage, homelessness, Day Off for domestic workers, the mandatory death penalty, detention under the ISA, censorship, the treatment of foreign workers, people with disabilities, LGBT people and so on – the official narrative is that pragmatism rules, and Singapore just can't afford to be idealistic about human rights.
But can we really afford to ignore it? The presence of any form of entrenched discrimination is a time-bomb for any community – which is why I am glad that Singapore has at least ratified two international human rights Conventions (with reservations) – the Convention on the Elimination of All Forms of Discrimination Against Women (CEDAW) and the Convention on the Rights of the Child (CRC) in 1995. This means our government has publicly committed to adhere to international standards of human rights for women and children, by making regular reports on progress, and taking questions and recommendations from independent human rights experts.
On 22 July 2011 in New York, Singapore's Fourth Periodic State Report for CEDAW (the Convention on the Elimination of All Forms of Discrimination Against Women) was presented by a team of government delegates led by Mdm Halimah Yacob, while Shadow Reports and additional information was provided by NGOs AWARE, Sayoni, Equality Now, SCWO, International Disability Alliance, GAATW & TWC2, H.O.M.E and Migrant Forum in Asia.
Interestingly, I found no mention of this in the Straits Times and Today, although on 19 July 2011, Channel News Asia featured a short article about the government delegates without mentioning the NGOs' Shadow Reports ('Madam Halimah leads delegation to UN'), and on 20 July 2011, Yahoo! Singapore published an article mainly on AWARE's Shadow Report to CEDAW ('Employment Act still excludes too many women').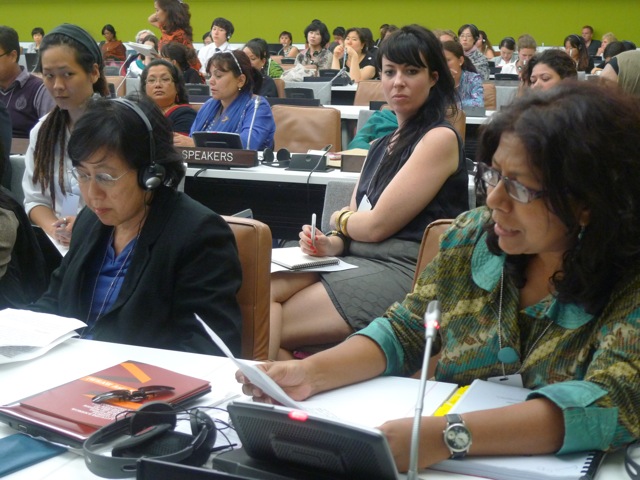 The importance of Shadow Reports from NGOs
There is no doubt that we have a good track record for gender equality. Singapore's delegates frequently referred to our system of meritocracy and opportunities regardless of gender, and it is generally true that "women in Singapore are not perceived as a disadvantaged or marginalised group, warranting special attention." (Section 9.1, Pre-session working group report)
Nevertheless, the Shadow Reports play an important role in highlighting loopholes and inadequacies, by providing supplementary information omitted in the State Report. AWARE's 273-page Shadow Report, for example, provided some rebuttals to the State Report, and documented forms of discrimination against women in matters related to employment and work arrangements, healthcare, financial security, violence and harassment, stereotyping in the media, foreign brides, foreign domestic workers, sex tourism, trafficking, political representation etc.
The Shadow Reports also proved useful during the discussion on queer (gay, lesbian, bisexual, transgendered) women. In previous CEDAW Sessions, our government's stock answers about queer women went uncontested, probably due to a lack of information. In fact, this year's 84-page State Report submitted by the government did not mention queer women at all, as if issues related to discrimination against women on the basis of sexual orientation or gender identity were not to be considered at all.
Defying this invisibility, this year for the first time, representatives from Sayoni (a community of queer Asian women based in Singapore) attended the CEDAW Session and also submitted a Shadow Report to the CEDAW Committee. Supplementing the complete lack of information in State Report, Sayoni's 16-page Shadow Report detailed problems that queer women encounter in the law, media portrayal, curriculum, bullying, employment policies, taxes, maternity benefits, healthcare, housing, immigration etc., enabling the CEDAW Committee to ask our government more specific questions about the legal vulnerabilities and discrimination queer women face in Singapore. (See 'Amazing Responses by CEDAW to Address LGBT Discrimination in Singapore', IGLHRC, 27 July 2011)
The CEDAW Committee's recommendations for Singapore
With information from the State Report and Shadow Reports, our government delegates then participated in an intense session of questioning from the CEDAW Committee – over 116 questions in 5 hours – based on the Committee's previous recommendations and the current state of gender equality in Singapore. Following that dialogue, the CEDAW Committee's human rights experts commended Singapore for a number of achievements, and also published their concluding observations (dated 27 July 2011) which included recommendations:
To incorporate the CEDAW Convention into Singapore's domestic laws (point 10),
To implement a strategy to eliminate stereotypes that discriminate women, including those based on sexual orientation and gender identity (Point 22a)
To criminalize domestic violence and marital rape (Point 24a)
Ratify the UN Protocol to Prevent, Suppress and Punish Trafficking in Persons, especially Women and Children (Point 26a)
To ensure paid maternity leave for all women employees, regardless of nationality and marital status, without forcing pregnant women to resign (Point 29, 30b)
To adopt legislation guaranteeing equal pay for equal value work (Point 30c)
To adopt legislation on sexual harassment at the workplace and schools, including sanctions, civil remedies and compensation for victims (Point 30d)
To adopt legislation ensuring that foreign domestic workers are entitled to adequate wages, decent working conditions, including a day off (Point 32a)
Ratify the ILO Conventions No.111 concerning Discrimination in Respect of Employment and Occupation and the ILO Convention No.189 concerning Decent Work for Domestic Workers. (Point 32d)
To review the current legal system governing marriage with a view to extending existing legal provisions to couples living in de facto unions (Point 34c)
Other recommendations referred to matters related to Singapore's current CEDAW reservations, human trafficking, education, aesthetic clinics and spas, human trafficking, political representation, foreign wives, foreign domestic workers and so on.
Keeping the spotlight on human rights
Still, international scrutiny is not a magic pill. Now that the CEDAW Sessions are over, the international spotlight has swung away again from Singapore's standard of gender equality, and all the other inter-related human rights issues.
Based on past experiences of accountability and public discourse in Singapore, I suspect it will be too easy for our government to let the difficult questions and recommendations lapse from political memory, or for them to dismiss the CEDAW human rights experts as foreigners who 'know nothing' of our 'conservative society', 'Asian values' or of 'Singapore's unique situation' – much like how our government dismissed the recommendations by UN Special Rapporteur on Racism Mr Githu Muigai in April 2010. (See 'MFA's Response to the Press Statement of Mr Githu Muigai, UN Special Rapporteur')
Unless of course we keep the spotlight on. We may not agree on all the issues or recommendations or methods, but we don't have to. For those of us who believe in the importance of human rights, we can continue to push for the elimination of discrimination in our own ways: Tell stories, ask questions, conduct surveys for documentation, run sustained collaborative campaigns, volunteer our energy and resources to help the disadvantaged or disenfranchised, discuss these issues in our homes, schools, media and community groups, or – very simply – continue to be kind and compassionate to people around us, protecting Others' rights as we would our own.
Some suggestions for further reading and evaluation:
—
Read the Civil Society's joint media release HERE.