Update: ECO Singapore will be meeting PM Lee at 5pm (Danish Time, i.e. SGT minus 7h) on 18 Dec 2009
Eleina
Eleina is a member of ECO Singapore, hoping to bring forward the gravity of the climate change issue in Copenhagen this December. The group is part of the International Youth Climate Movement (IYCM) at the United Nations Framework Convention for Climate Change (UNFCCC) 15th Conference of Parties (COP15).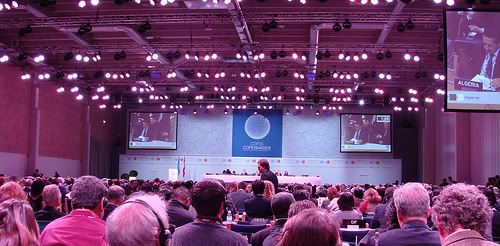 A Plenary Session at COP15 (Photo Credit: University of Toronto)
Sometime this week, ECO Singapore will be having a short interaction session with Singapore government officials in Copenhagen. Part of the session will include time for us to question them on Singapore government's environment policies and their goals during COP15.
Do contribute questions you would like to be answered in regards to the above. We will do our best to present these questions during the interaction session. It is time for us to start raising critical issues and asking pertinent questions in regards to our role, as Singapore, within the global climate movement.
We look forward to receiving your questions! Please post your questions on the commentary thread of this article.
This article was originally published at http://unfcccecosingapore.wordpress.com/