The following is an excerpt from The Economist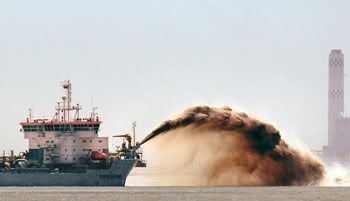 "Sand prices, which peaked at over S$60 ($43) a tonne in 2007, have fallen during the slowdown. Simon Lee, of the Singapore Contractors' Association, believes a new regulation requiring sand importers to have alternative back-up supplies will help insulate his members from further turbulence.
(Left, Photo Credit: AFP)
A spokesman for Singapore's national-development ministry adds that construction companies have been importing sand from "various" regional countries and claims that "recent restrictions on sand exports have not affected the supply of construction sand to Singapore."
But global demand for dwindling supplies of sand and other materials is mounting. Critics say that Singapore needs to shift faster from building cheap but resource-intensive concrete structures towards more expensive construction techniques that use, say, more steel and glass.
Relying as it does on low-wage, low-skilled migrant workers from South Asia, Singapore's construction industry is not yet ready for such a high-tech transformation. And in the short term there are still plenty of willing suppliers.
Tim Sintop, an American whose trading company wants to export sand from Myanmar and has already secured several contracts in Singapore, is upbeat: "The more bans there are elsewhere, the better for us."
Read the rest of the write-up at The Economist