The following article was first published on funny little world.
Kirsten Han/
I woke up to this Straits Times article this morning: MOM staff to get ergonomic chairs.
These babies, designed by American manufacturer Herman Miller, cost S$575 each. The Ministry of Manpower (MOM) is buying 472 chairs for its headquarters, which means that the bill will come up to a whopping S$271,400.
Perhaps the staff members of MOM really need these chairs. Perhaps there's an increasing trend of back problems and backside pox in MOM HQ. I don't know. And don't get me wrong, I am glad that the Ministry is taking care of its employees. It's just that when I read this article about the super-pricey chairs that cost over a third of my monthly salary, I couldn't help but remember a few groups of people in Singapore the Ministry also have to take care of…
1. Domestic workers

Up until today, I believe that there is no legislation that says that all domestic workers are entitled to a day off every week. Transient Workers Count Too (TWC2) has been doing advocacy work on this issue for years now (see here). Some domestic workers in Singapore have to work day in, day out without any respite, and might not even get their wages, because of the agency fees that they have to pay back.
The Human Rights Watch in 2005 released a report about the abuse of domestic workers in Singapore.
2. Migrant workers

There are so many migrant workers in Singapore from various countries – Bangladesh, India, Sri Lanka, China, Burma, etc. – who are working under very difficult, horrible circumstances. The Online Citizen has done a focus week on the stories of migrant workers in Singapore, documenting tragic stories of workers housed in containers,workers not getting adequate healthcare support, workers abandoned by their employers…
In the following documentary it is found that workers are not only being physically abused, but they are also being cheated out of the exorbitant amounts of money (S$8000 – S$10,000 each) they have to pay their agents before coming into Singapore:

3. Elderly workers
According to Nielsen's Global Aging Report, only 14% of Singaporeans can afford to retire. That's why you see sights like this: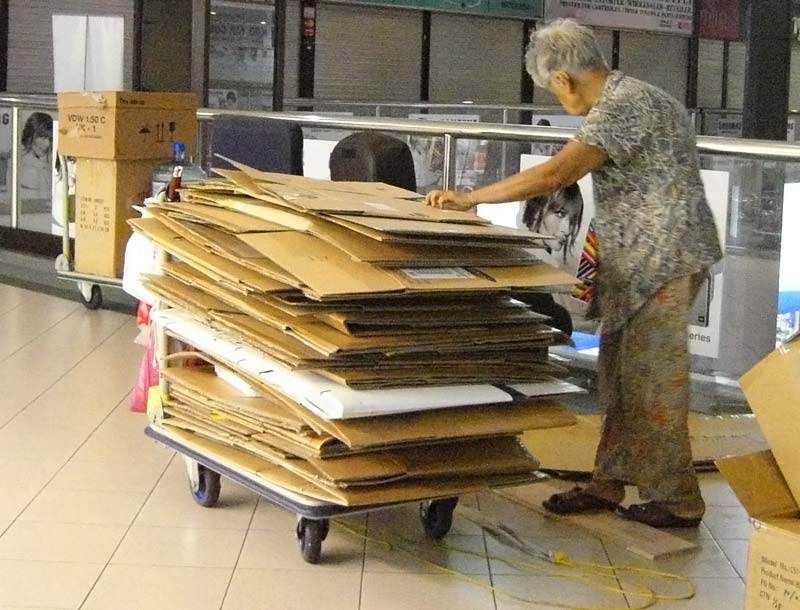 While our Ministers get lovely fat pensions, the average Singaporean will see nothing. Despite the wonders of our CPF schemes, people seem to be unable to support themselves in their old age. The government has also turned down requests of more financial support for those who have to support their aged parents. But that's okay, because our Minister Mentor says it's good not to retire, because "retirement means death"!
There is no minimum wage in Singapore.
Well, maybe it's good that the MOM staff are getting great chairs that cost more than half the monthly salary these groups of workers receive. I hope that they will be able to sit and work in comfort, and that it will put them in a better frame of mind to help these people.