By Ganga
England play Slovenia tonight in their final group stage game at World Cup 2010 and they desperately need to win in order to have any chance to qualifying to the next stage (see table below). With the USA team playing Algeria in the other game, it will take the combination of a positive outing for the English coupled with an unsuccessful foray for the Americans in order to see England play in the Second Round.
Of course, knowing England who play 18th century football – as opposed to global football which has reached an arguably universal level today, it is likely England will be unceremoniously booted out tonight (as so they deserve to be). That being a more than probable outcome let us therefore preempt the various poor excuses lame reasons justifications that might be plastered in the news tomorrow to exonerate England.
Excuse #1: Key players were injured
As if David over-the-hill-but-refuses-to-let-that-get-in-the-way-of-being-popular Beckham, Rio grossly-overrated Ferdinand, Ledley cannot-train-regularly-but-still-can-be-in-national-team King, and Jamie only-here-because-England-has-no-real-quality-to-begin-with Carragher could make a REAL difference to a team that includes Emile can't-even-hold-down-a-regular-place-at-any-decent-league-team Heskey, Peter tallest-man-on-the-pitch-but-can't-head-for-nuts Crouch and John values-himself-way-too-highly-for-his-over-simplistic-skills Terry?
Every team has injuries, unforeseen circumstances and bad luck – it's how the players pull themselves up and overcome the obstacles that demonstrate their destiny to be champions. If the whining England team wants an easy and safe passage, they should go play the game on the Sony Play Station – like that Singapore also can lift the World Cup lah!
Excuse #2: The ball did us in
Yes, yes, we've all heard it before – teams complaining the specially designed ball giving trouble to players. Called the Adidas Jabulani, the ball has been squarely blamed for the freak goal conceded by Robert so-good-that-he-is-only-good-enough-for-a-mid-table-team Green in the game against USA. Never mind that all 32 teams struggled with the ball. Never mind that the top teams have managed to adapt and post better scorelines in their respective second games as compared to the first. England will be the only one who is done in by the ball, damn you and your quest for perfection Adidas.
Excuse #3: Capello controversy
The only foreigner available, the Italian manager will surely be blamed for everything from squad selection to team talks. As it is, the aforementioned John way-too-emotional-to-be-a-professional-player-worth-his-salt Terry has already tried to stage a coup in the dressing room (which was an epic fail) – undermining the authority of the manager who has way more experience (and not to mention intellect). It is not in the English tradition to actually assume responsibility for the dismal performances on the pitch and nothing unites a nation like a foreigner scapegoat.
Excuse #4: Long domestic league season
English footballers always claim to be regular blokes and what better way to illustrate that by blaming work when all else fails. It doesn't matter whether they actually achieved anything during the supposedly long season (like winning European honours, for example), the fact that the season ended in late April or early May will be cause enough to derail a World Cup campaign that was spread over 3 long years (including qualification rounds).
Excuse #5: The all-powerful 'Confluence of Factors'
One thing England is good for is coming up with excuses for not doing what they expressly claimed to be single-minded on achieving, so don't be surprised if they point to all of the above and link them all together in some kind of convoluted conspiracy to explain their shit performance.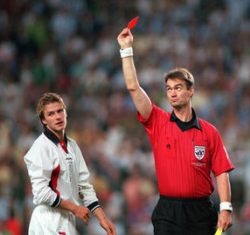 This is the fifth World Cup since they actually shut up and tried their earnest best to provide a good showing (and rightfully coming within a hair's breadth of the finals that year, in Italy 1990) – and for the past 20 years (gosh, am I THAT old already?) it has been the same cycle of…
a) struggling to even qualify (sometimes not even achieving even that simple-according-to-England objective, a la USA 1994)
b) claiming to be potential/probable champions
c) failing miserably and being shown up for the amateur players that they are
d) blaming the whole world except themselves for a shitty performance (see their history)
So here's to yet another unglamorous but deserved exit for England in World Cup 2010…
_______________________________________________