TOC wishes MM Lee Kuan Yew a happy 86th birthday and thanks him for his nation-building endeavour.
Netina Tan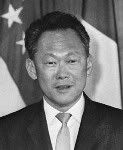 A public conference was held recently to discuss the country's prospects in the event of MM Lee Kuan Yew's death (ST 21 Apr 2009). Lee Kuan Yew has had two heart operations in 1996 to clear a blocked heart artery. He was hospitalised again in Sep 2008 for abnormal heart rhythm and has since implanted a cardiac pacemaker (ST 1 Dec 2008). More recently, he was also seen to be slow in his speech in Parliament.
With the global economic downturn, export-dependent Singapore faces its worst crisis since independence. And as Lee Kuan Yew turns 86 years old, questions are raised on the prospects of the hegemonic PAP's rule. Will Singapore survive his death?
Leadership Succession
In most Asian democracies, the question of leadership succession is perilous as it raises expectations and changes that could de-stabilise the balance of power. For example, when Taiwan was under the Kuomintang's rule in the 1980s, speculations or publications on the prospective successors of Chiang Ching-Kuo were banned. Usually, strong leaders strive to hold on to power for as long as possible or show little interest in developing a means of providing a successor. But this is not a case in Singapore.
Over the last five decades, the PAP has engineered two party leadership successions without public infighting or power struggles. In Singapore's short history, two Prime Ministers have stepped aside for a younger successor. While the fourth Prime Minister successor has not been identified, the precedence of Prime Ministers stepping down is expected to continue.
As Goh Chok Tong once said, he stepped down voluntary "because Mr Lee had set the example" (Goh's speech at PAP 50th Anniversary Dinner, 2004). Singapore's leadership succession is unique as Lee Kuan Yew had made leadership succession a priority and PMs retire voluntary – not an easy feat, considering how often coups and protests are the main mechanisms for leadership change.
A Closer Look at the Mechanism
The PAP is an odd party as it avoids vertical integration of its cadres and does not appear to overtly reward party loyalists. This is perhaps another of Lee's legacy as he said: "We have resisted the temptation, and the pressure, to fill up the Parliament with party loyalists. We have to field the best that Singapore has" (Petir 30th Anniversary Issue 1984, 22).
Since 1984, the PAP has "talent spotted" widely and adopted the Civil Service recruitment process of tea sessions, interviews and psychological tests to select its candidates. As discussed, the PAP "talent spots" from within the state structures and integrates them horizontally into the Party. The PAP's incumbency advantage and access to state institutions such as the Public Service Commission that administers 13 prestigious government scholarships helps to channel highly qualified scholars into its party (see Chen and Neo 2007; Barr 2006).
Another feature of Singapore's leadership succession system is that retired PMs and senior Cabinet Ministers do not leave the political scene, but remain in office to lend expertise as Senior Ministers (SM) or Minister Mentor (MM). Currently, the Cabinet has two SMs and one MM. The expansion of the Cabinet is an ingenious innovation as it mitigates possible power struggles that come with leadership transition.
The new cabinet positions encourage intra-party elite cohesion as it compensates the outgoing leader with a prestigious position and high salary; and allows the new leader to tap his predecessors for knowledge and expertise. While the specific job scopes are unclear, the current MM and SMs are seen to act as consultants and ambassadors by travelling overseas to improve Singapore's international standing.
Observation and Criticism
Most observers contend that the PAP's cohesion over last 40 years owed much to Lee Kuan Yew's forceful personality. Yet, it is more than charisma or ideological commitments that sustain the party. Lee and his successors have institutionalised a process by which the PAP as an organization has incorporated the founder's values and aims. As Lee Kuan Yew once said: "My colleagues and I have institutionalised honesty, integrity and meritocracy into the systems we have created. Each generation of leaders has the duty to recruit the people of integrity, ability and commitment as their successors" (cited in Rodan 2009, 192).
Critics argue that the PAP's "meritocratic" based recruitment and candidate selection process are "ruthless winnowing process" that promotes elitism and "politics of envy" (Barr 2006; Tan 2008). Much has been written about the elite-selection process may result in the ruling class renewing itself with the people of same mindset, promoting in-breeding of ideas. But, despite complaints of elitism, Singapore voters also rarely vote for candidates who are not well educated or qualified professionally (Mauzy 2002, 64).
Lee's birthday reminds us of his relentless dedication to institutionalise a structure of governance that will survive beyond him. The institutionalised elitist-based leadership selection process is one such example. With the injection of "right" people and concerted attempt to address the gap between ordinary party members and its elite leadership, the PAP appears poised to survive the passing of its founding leader for some years to come
Bibliography
"Singapore After Lee Kuan Yew." ST 21 Apr 2009.
"MML Lee gets pacemaker." ST 1 Dec 2008.
"Retain Our Core Values And Beliefs." Speech By Secretary-General Goh Chok Tong, at The PAP 50th Anniversary Dinner, Suntec International Convention & Exhibition Centre. 2004.
People's Action Party. People's Action Party, 1954-1984 : Petir, 30th Anniversary Issue. Singapore: Central Executive Committee, People's Action Party, 1984.
Neo, B. S., and G. Chen. Dynamic Governance: Embedding Culture, Capabilities and Change in Singapore. World Scientific Pub Co Inc, 2007.
Barr, M. "Beyond Technocracy: The Culture of Elite Governance in Lee
Hsien Loong's Singapore." Asian Studies Review 30.1 (2006): 1-18.
Rodan, G. "Accountability and Authoritarianism: Human Rights in
Malaysia and Singapore." Journal of Contemporary Asia 39.2 (2009): 180-203.
Tan, Kenneth P. "Meritocracy and Elitism in a Global City: Ideological Shifts in Singapore." International Political Science Review 29.1 (2008): 7.
Mauzy, Diane K., and R. S. Milne. Singapore Politics Under the People's Action Party. London ; New York: Routledge, 2002.